The HRG strives to bring compelling national and international thinkers to the HRG community every year via our Distinguished Speakers Series.
2020-2021
Naomi Klein
Naomi Klein is an award-winning journalist, columnist, and author of the New York Times and international bestsellers No Logo, The Shock Doctrine, This Changes Everything, No Is Not Enough, On Fire and How To Change Everything: The Young Human's Guide to Protecting the Earth and Each Other. Senior Correspondent for The Intercept, Puffin Writing Fellow at Type Media Center, and contributor for The Nation and The Guardian, Klein is the inaugural Gloria Steinem Endowed Chair in Media, Culture and Feminist Studies at Rutgers University. She is co-founder of the climate justice organization The Leap.
To watch the recording of the event, please visit our YouTube channel.
For more about Naomi Klein, please visit naomiklein.org.
Erick Laming
Erick Laming is a PhD candidate in criminology at the University of Toronto. He is a member of the Shabot Obaadjiwan First Nation and his research largely focuses on police use of force, police oversight and accountability, and Indigenous and Black community members' experiences with the criminal justice system. His dissertation project is funded by the Social Sciences and Humanities Research Council of Canada. Erick's published research has also explored issues concerning police body-worn cameras, Indigenous policing, and police oversight and accountability structures in Canada. Some of Erick's work has been featured in the Globe and Mail, Toronto Star, and the CBC. He is also co-author of a study for the Ontario Human Rights Commission titled, Use of force by the Toronto Police Service: Final Report.
To watch the recording of the event, please visit our YouTube channel.
Emma Donoghue
Emma Donoghue is best known for fiction, which has been translated into over forty languages. She has written literary history and for stage, screen and radio, but is best known for her novels, which range from the historical to the contemporary. An international bestseller, Room was shortlisted for the Man Booker and Orange Prize, and won the Hughes & Hughes Irish Novel of the Year, the Rogers Writers' Trust Fiction Prize, the Commonwealth Prize (Canada & Caribbean Region), the Canadian Booksellers' Association Libris Awards (Fiction Book and Author of the Year), the Forest of Reading Evergreen Award and the W.H. Smith Paperback of the Year Award.; her screen adaptation, directed by Lenny Abrahamson, was nominated for four Academy Awards.
To watch the recording of the event, please visit our YouTube channel.
For more information about Emma Donoghue, please visit emmadonoghue.com.
2019-2020
Sook-Yin Lee
Sook-Yin Lee, multimedia artist and broadcaster, has led a singular career in the belly of Canadian media. The renegade MuchMusic VJ and CBC producer helmed the award-winning DNTO and created the acclaimed interview podcast Sleepover. She writes and directs movies, makes music, choreographs dance, and writes and performs experimental theatre.
Within months of Sook-Yin Lee's 2020 HRG lecture, she made a film in quarantine that touches on many of the topics and issues that she referenced in her lecture.
Watch her film Death and Sickness or follow her.
Dr. Till van Rahden
Till van Rahden teaches modern and contemporary history at the Université de Montréal where he held the Canada Research Chair in German and European Studies from 2006 to 2016. He is interested in the tension between the elusive promise of democratic equality and the recurrent presence of diversity and moral conflicts. His publications include Jews and other Germans: Civil Society, Religious Diversity and Urban Politics in Breslau, 1860-1925 (Madison: The University of Wisconsin Press, 2008) and four edited volumes including Emanzipation und Recht: Zur Geschichte der Rechtswissenschaften und der jüdischen Gleichberechtigung. (Frankfurt/M.: Klostermann, 2021). Currently, he is a fellow at the Institut für die Wissenschaften vom Menschen in Vienna.
Dr. van Rahden's credits discussions that arose during his 2020 HRG talk and visit as part of the inspiration for ideas reflected in this roundtable organized in response to his work.
2018-2019
Afua Cooper
Afua Cooper is the Chair of the Scholarly Panel on Lord Dalhousie's Relationship to Race and Slavery and co-author of the Report. She is also the former James Robinson Johnston Chair in Black Canadian Studies and poet Laureate of Halifax 2018-2020. Her research interests are African Canadian studies, with specific regard to the period of enslavement and emancipation in 18th and 19th century Canada and the Black Atlantic; African-Nova Scotian history; political consciousness; community building and culture; slavery's aftermath; Black youth studies. Dr. Cooper founded and chairs the Black Canadian Studies Association (BCSA).
For more about Afua Cooper, please visit afuacooper.com.
Sam Green
Sam Green is an Academy Award-nominated director whose work has screened worldwide, including the Sundance Film Festival, was broadcast on PBS, included in the Whitney Biennial. His most recent projects are "live documentaries" including A Thousand Thoughts (2018) in collaboration with the Kronos Quartet, The Measure of All Things (2014), and The Love Song of R. Buckminster Fuller (2012), which premiered at the Museum of Modern Art as part of the San Francisco International Film Festival. All three works are performed live, with Green narrating and musicians performing the soundtrack.
For more about Sam Green, please visit samgreen.to.
Johan Grimonprez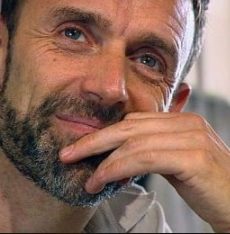 Johan Grimonprez's work has been exhibited at museums worldwide, including the Hammer Museum, Los Angeles; the Pinakothek der Moderne, Munich; and MoMA. His works are in the collections of Centre Georges Pompidou, Paris; the 21st Century Museum of Contemporary Art, Kanazawa; and Tate Modern, London. His feature films include dial H-I-S-T-O-R-Y (1997, in collaboration with novelist Don DeLillo, selected by the Guardian as one of the "30 great works in the history of video art"), Double Take (2009, in collaboration with writer Tom McCarthy) and Shadow World (2016, in combination with journalist Andrew Feinstein). Travelling the main festival circuit from the Berlinale, Tribeca to Sundance, they garnered several Best Director awards, the 2005 ZKM International Media Award, a Spirit Award and the 2009 Black Pearl Award at the Abu Dhabi Film Festival, and were also acquired by NBC Universal, ARTE, and BBC/FILM 4.
For more about Johan Grimonprez, please visit johangrimonprez.be.
2017-2018
Samantha Nutt
Samantha Nutt is an award-winning humanitarian, bestselling author and acclaimed public speaker. A medical doctor and founder of the international humanitarian organizations War Child USA and War Child Canada, Dr. Nutt has worked with children and their families at the frontline of many of the world's major crises – from Iraq to Afghanistan, Somalia to the Democratic Republic of Congo, and Sierra Leone to Darfur, Sudan. A leading authority on current affairs, conflict, international aid and foreign policy, and member of the Order of Canada, Dr. Nutt is one of the most intrepid and recognized voices in the humanitarian arena. With a career that has spanned more than two decades and dozens of conflict zones, her international work has benefited millions of war-affected children globally.
For more about Dr. Nutt and War Child Canada.
Mike Downie
Mike Downie is the founder of the film production company Edgarland Films. Downie won a Gemini Award for Best Sports Program or Series in 2005 as coproducer with Nicholas de Pencier of The Hockey Nomad. He has won three Canadian Screen Awards, for Best Science or Nature Documentary in 2014 as director of "Invasion of the Brain Snatchers", which aired as an episode of The Nature of Things; Best Social or Political Documentary Program in 2018 as a producer of The Secret Path; and Best Direction in a Documentary Program in 2020 for the documentary Finding the Secret Path.
Mike Downie is a Director of the DownieWenjack Fund.